About the Artist Martha Fieber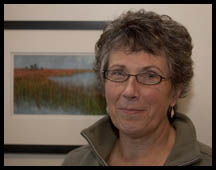 Artist Statement
I call my work, "Landscape in Thread".  By using subtle colors and details, and complex compositions, my art expresses our connection to the natural world.  It encourages the viewer to contemplate the interconnectedness between all things, to realize that there are many layers to everything we see in the world.
"Nature has infinite variation and beauty.  With such a vast resource, inspiration is unlimited".
Hand Embroidery Process
My art is about texture, technique, pattern, and detail.  Each work includes layers and layers of hand stitching to create shading and depth.  I use all kinds of threads, fibers, and colors to create depth and texture in my work.  Single strand silk, rayon, metallic, and/or hand dyed cotton threads, on linen and silk backgrounds comprise most of my current work.  I use only 4 types of stitch, straight stitch, French knots, couching, and chain stitch, to achieve the incredible depth and perspective you see in my work.   I am painting and weaving my own backgrounds with fabrics, fibers, yarns, and ribbons.  Each work is original in design and one-of-a-kind fine art embroidery.
Resume of Exhibits and Awards
Martha Fieber – Landscape in Thread – "Northern Forests and Meadows" – Solo Show  – Hartwig Gallery , Bay College – Escanaba, MI – November 3rd thru December 3rd 2010
"North of the Bridge" – Crooked Tree Art Center– Petoskey, MI – May 22nd thru August 15thth 2010
Seasons and Moods: Hand Embroidered Landscapes – Solo exhibit at the William Bonifas Fine Arts Center – Escanaba, MI – January 8th thru February 12th 2009
Philadelphia Museum of Art Craft Show 2008, 2009 – Philadelphia, PA
Convergence – Small Expressions 2008 – Handweavers Guild of America – Tampa Museum of Art, Tampa, FL – Honorable Mention
New Fibers 2008 – Fiber Arts Network of Michigan – Semi annual fiber show – Ypsilanti, MI and Escanaba, MI
American Craft Exposition – Evanston, IL  – 2004. 2006, 2007, 2008, 2009, 2010
Westchester Craft Show – 2008
SOFA – Represented by Katie Gingrass Gallery – 2005, 2007,2008
Handweavers Guild of America –  Small Expressions 2007 – HGA Award winner for innovation and mastery of skills and technique.
William Bonifas Fine Arts Annual Juried Arts Competition "Northern Exposures" 2000 thru 2007
DeVos Museum – Artists of the Upper Peninsula – Best of Show – 2006
DeVos Museum – Artists of the Upper Peninsula – 2nd Place – 2005
Smithsonian Craft Show Silver Exhibitor's Award – 2005
Superior States: Governor's Invitational – January thru June 2004
Fiberarts Design Book 7 published in February 2004.
Professional Fiber Art Organizations
Education
Self taught in embroidery and weaving.  I have been working with fiber since I was old enough to handle a needle.  In 1999, I gave up engineering for art.  It has been a joy to me to create original embroideries and work with fiber for my second career.  My education in engineering is an integral part of my success in planning and executing the complex and detailed landscapes and weavings that have kept me fascinated for the past 10 years.
Northern Michigan University Liberal Arts Studies
Northeast Wisconsin Technical College:  Associate Degree in Mechanical Design
Other Textile Art Activities
Dyeing fibers with locally found natural dye plants.  I use these fibers, threads, and ribbons for embroidery or rug hooking.
Woven sculpture with sticks and assorted fibers.
Weaving